in association with Gorringe's Auctioneers
Raising funds for Barefoot Opera's new 'people's opera', Bloom Britannia, our art auction is now live.
Register your interest and bid up to and including the live webcast auction from Charleston Farmhouse on SUNDAY 13th June from 6.30pm to 9.30 pm.
Are you interested in collecting contemporary art? If the answer is yes, you will be delighted to know that Barefoot Opera is holding an auction of paintings and sculptures by more than twenty highly acclaimed artists in partnership with Gorringes Auctioneers. Our aim is to raise funds for Barefoot Opera's new 'peoples' opera' Bloom Britannia. This four year project brings the experience and joy of music and opera closer to the communities of Hastings, St Leonards and Bexhill.
The auction will culminate at a sparkling event in The Hay Barn at Charleston Farmhouse in East Sussex on Sunday 13th June 2021 from 6.30-9.30pm, where final bids will be accepted, both in the room and live online. In order to include as many collectors as possible, this will be a private, ticketed event. Please email jennylevitan.barefootopera@gmail.com to apply for a ticket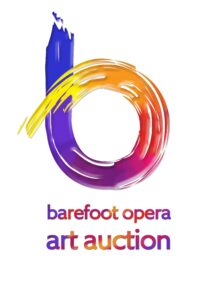 Participating artists include: Stephen Buckley / Edward Chell / Sally Cole / Jean Davey Winter / Tacita Dean / Olga Geoghegan/ Steven Gregory / Tom Hammick / Bryan Kneale / Garth Lewis / Bernard McGuigan / Mark Pulsford / Matthew Radford / Tobit Roche / Maggie Scott / Donald Smith / Charlotte Snook / Siobhan Stanley / Kjell Torriset / Maibritt Ulvedal Bjelke/ Mark Wright / Laetitia Yhap / Suzie Zamit
With thanks for the support of the artists, our patrons and partners.