Classical voice training for integration
Thursday Jan 27th – Sunday Jan 30th 2022
9:30am – 6:00pm
South East London
Fee: £200 Early bird price until January 1st 2022, from January 1st £240
Tutors
Jenny Miller: Voice & Movement
Penelope Randall-Davis: Voice
Lesley Anne Sammons & Nicholas Bosworth: Repetiteurs/Coaches
Ali Baybutt & Evy Freebury: Movement Specialist
& Guest Tutors TBC
---
"The traditional mechanistic view of anatomy, as useful as it has been, has objectified rather than humanised our relationship to our insides."

Thomas Myers
Descartes described the human body as a 'soft machine'. As singers, we know this to be true on one level, but the machine analogy very quickly becomes inadequate. How can we find working methods that genuinely connect the machine to our sense of self, and allow both vocal competence and artistry to flourish?
About Barefoot Opera
Barefoot Opera challenges us to rethink methods of training the classical voice. We begin by stripping our voices down to basics: body, breath, movement and sound. We reconnect with basic human responses: laughing,sighing, calling – the elemental tone qualities that signal our ceaseless human interaction with our environment.

This "responsive breath", reaction and action, is the keystone of Barefoot's work, refining and evolving into singing and the operatic tradition.
About the Course
On our four day Intensive Course in January 2022, we bring together our expert team of professional singers, movement specialists and coaches, and we train our participants in responsive breath work, physical theatre techniques and somatic movement practice, connecting emotional and physical responses to classical voice training.
Singers will be invited to bring at least two pieces of their own choice to work on throughout the four days, and will pre-agree with our tutor team an opera duet or aria which will be staged and performed on the fourth day of the course. In the previous days singers will study and perform songs of their own choice, and will be given movement and theatre work in close connection to their voice work.
Our course is for advanced, serious students of voice, whether they are following a professional journey or not.
On our course expect to:
Find exercises to free your sense of your body in space and action
Find exercises to balance your breath, sound, and optimal personal resonance
Develop ways to connect to the space around you
Have individual time in masterclasses
Participate in our uniquely evolved body/voice/movement group lessons and exercises
Participate in detailed acting classes, text work, leading to sung repertoire work
Individual feedback and consultation
Student Feedback
"Great stuff!"

"Great course!"

"It's been a truly wonderful week. Thank you for giving of yourselves"

"The course has been a fantastic experience! Many thanks for a wonderful week"

Course Participants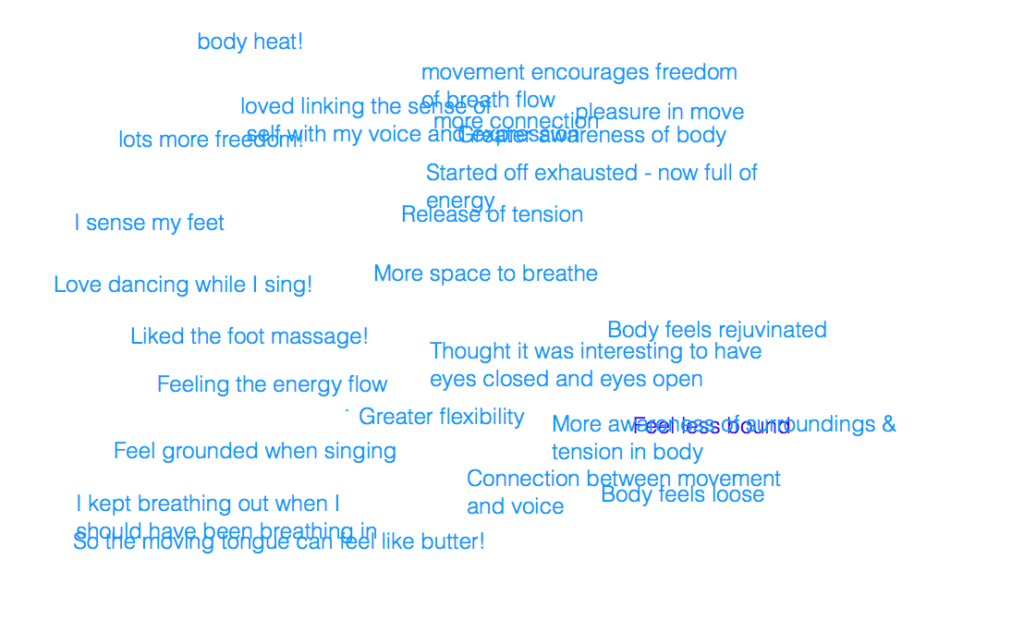 Jenny Miller: Voice Training