⭐️⭐️⭐️⭐️ 'A delightful feast of vocal virtuosity and comic verve' (The Stage)
We're on tour with our sparkling production of Rossini's La Cenerentola (Cinderella) this Summer. Expect all the hallmarks of a Barefoot Opera show: a dynamic international cast of young singers, a small on-stage band delivering the score, and a contemporary take on a classic tale.

Come and see this 'inventive and playful' production in venues across the South East from July to September.
Directors: Jenny Miller and Michael Spenceley

Dates and venues
Thursday 27th July: St. John the Evangelist, HASTINGS AND ST. LEONARDS
1st-5th August: Arcola Theatre, LONDON (Grimeborn Opera Festival)
Saturday 19th August: Rye Creative Centre, RYE
Sunday 3rd September: Crowhurst Place, LINGFIELD
'Without a doubt, I have never enjoyed an opera more. Opera in the round, with an immediacy that no proscenium could ever project. Eternal rags-to-riches, a nineteenth century comedy given a twenty-first century treatment to become an immediate metaphor for our current turbulence. The musicianship and the choreographic staging are transcendent. We were privileged to watch a number of young operatic performers give legendary performances. Even if you think you hate opera, you'll adore this. Go and see it.'

Hastings Independent Press

TICKETS ON SALE NOW! Book HERE.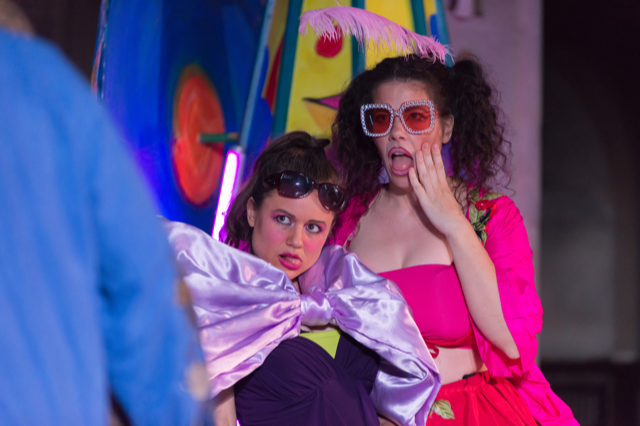 Cast
Angelina: Rachel Deatherage
Prince Ramiro: James Beddoe
Tisbe: Elora Ledger
Clorinda: Jessica Wise
Dandini: Toki Hamano
Alidoro: Andrew Sparling
Don Magnifico: Denver Smith
Production Team
Anthony Flaum Producer
Alfie Chesney Assistant Director
Jane Bruce Set Designer
Natascha Stolle Costume Designer
Charlotte Tingley Stage Manager
Musicians
Laurence Panter Piano/MD
Andrew Sparling Clarinet
Lucy Mulgan Double Bass
Iñigo Mikeleiz Berrade Accordion (St. Leonards/London shows)

Performed in italian with surtitles in english.
Rossini's delicious and charmingly comic La Cenerentola, or Cinderella, is a more humanist than magic tale. 
The Prince of the fairytale realm, Ramiro, is seeking a woman "innocent and good", and orders his court advisor, Alidoro, to disguise himself as a tramp and test out the ladies in Don Magnifico's house. Here we find that only Cinderella will help the poor beggar – her sisters and father are far too self centred, conceited and generally on the make to take time for a vagabond.
It is this same Alidoro who will kit out Cinders in all the finery she needs for the ball, and help her escape before her family detect her.  She leaves behind a bracelet rather than the traditional shoe, and this bracelet will lead to her reunion with her Prince.  Meanwhile, the sisters and father have been further deceived; the Prince and his valet Dandini had swapped places, and they had spent the opera oleaginously making up to a mere servant.
In our version, we update the comedy. Cinderella's sisters and their status-obsessed dad trash the earth's resources, and generally exhibit callous indifference to their environment. The two sisters are heavily preoccupied with their roles as influencers on social media,  and their idiotic iPhone messages are exposed.