We are planning to tour with La Cenerentola in summer 2023. Watch this space for tour venues and dates.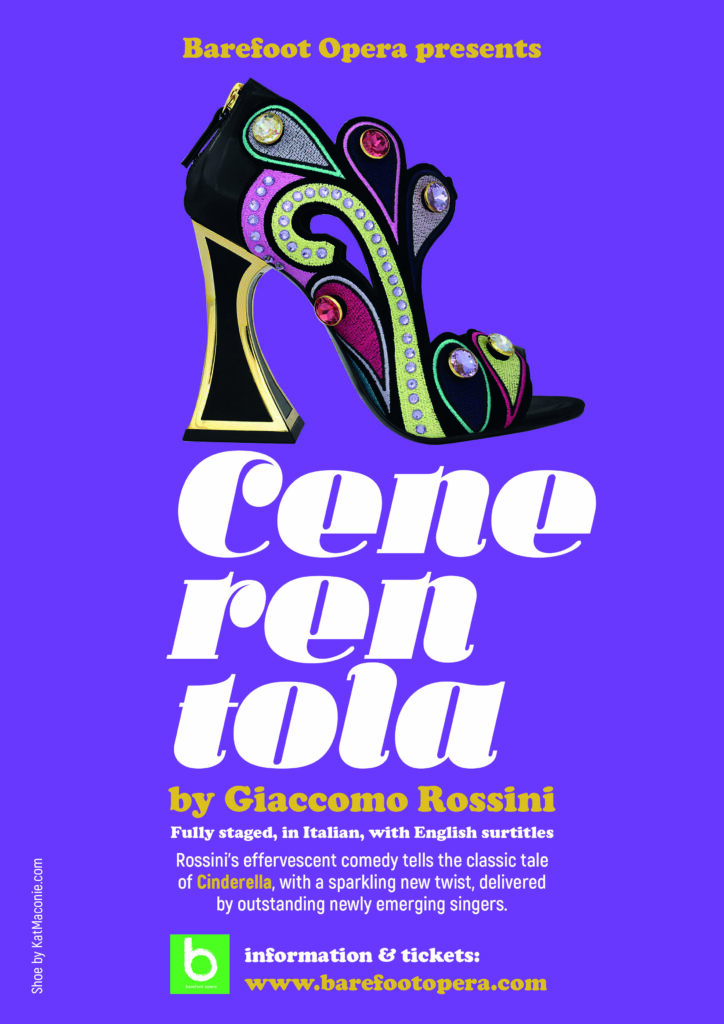 Stage direction: Jenny Miller and Michael Spenceley
Musical direction from the keyboard: Laurence Panter with Lucy Mulgan on double bass, and Andrew Sparling on Clarinet.
Rossini's delicious and charmingly comic Cenerentola, or Cinderella, is a more humanist than magic tale.
The Prince of the fairytale realm, Ramiro, is seeking a woman "innocent and good", and orders his court advisor, Alidoro, to disguise himself as a tramp and test out the ladies in Don Magnifico's house. Here we find that only Cinderella will help the poor beggar – her sisters and father are far too self centred, conceited and generally on the make to take time for a vagabond.
It is this same Alidoro who will kit out Cinders in all the finery she needs for the ball, and help her escape before her family detect her. She leaves behind a bracelet rather than the traditional shoe, and this bracelet will lead to her reunion with her Prince. Meanwhile, the sisters and father have been further deceived; the Prince and his valet Dandini had swapped places, and they had spent the opera oleaginously making up to a mere servant.
In our version, we update the comedy. Cinderella's sisters and their status-obsessed dad trash the earth's resources, are over-preoccupied with social media influencers, and generally exhibit callous indifference to their environment. As the two sisters are heavily preoccupied with their roles as influencers on SM, and their idiotic i phone messages are exposed.
Current and recent projects
RED! Schools Project
Barefoot Opera took Red! to Hollington, The Baird and Ore Village primary schools in July 2022. It is all about bringing the joys and power of singing and drama to children who otherwise have little or no access to performing arts. We performedwith all the schools at the Stade on 15 July at a free event, thanks to a grant from Hastings Foreshore Trust RED!
What is special about Barefoot Opera's integrated training?
Barefoot Opera invites you to rethink and deconstruct: to strip opera down to the basics of body, breath, movement, sound. We help you to access what you already have: the tools and resources to improve your whole experience of singing and performing.
Our training exercises enable you to develop an energised, physical, ensemble approach- key to facilitating the demands of contemporary directors. Sunday September 11 FREE TASTER DAY
Please follow our Facebook and Instagram pages for latest updates!