Our production of the new 'people's opera' BLOOM BRITANNIA was staged for the first time in October 2021 at St. Mary in the Castle in Hastings. An affectionate, comic opera, bringing together influences from folk, pop and jazz, this is an opera like no other, and is at the heart of our mission to engage new participants, as well as new audiences, in the experience of opera.
Composer: ORLANDO GOUGH
Librettist: STEPHEN PLAICE
Director: POLLY GRAHAM
Artistic Director: JENNY MILLER
Conductors: CHRISTOPHER STARK/MARK AUSTIN

The culmination of many years of development, with a leading creative team working with the communities of Hastings, St. Leonards and Bexhill – children, young people and adults – many of whom performed on stage alongside an outstanding professional cast and live band, BLOOM BRITANNIA is a hilarious, raucous, challenging, action-packed, thrilling production celebrating the joy of singing, music and creativity. Read more about the development of the project HERE.
'Barefoot Opera's stupendous community opera BLOOM BRITANNIA had its last performance today. What a dazzling delight, a faultless production embodying the spirit of Hastings and St Leonards-on-Sea. I'm honestly overwhelmed by the professionalism of this opera but further moved by the community engagement. Quality always shines through and this production scores on every level...truly a triumph.'

Audience Feedback 2021
Participants and participating organisations
A chorus of local people from Hastings, St. Leonards and Bexhill from across the generations.
Singers from several community choirs including Hastings Philharmonic Choir, Sound Waves Community Choir, Opera South East, and vocal groups Acapella Bellas, Rattlebag, Now and Then
Participants from Arts On Prescription and The Seaview Project
Pupils from Dudley Infants School and The Hastings Academy

Professional Cast
Performing alongside our community participants was an outstanding cast of professional singers, several local to Hastings and St. Leonards, and pop maverick Lekiddo.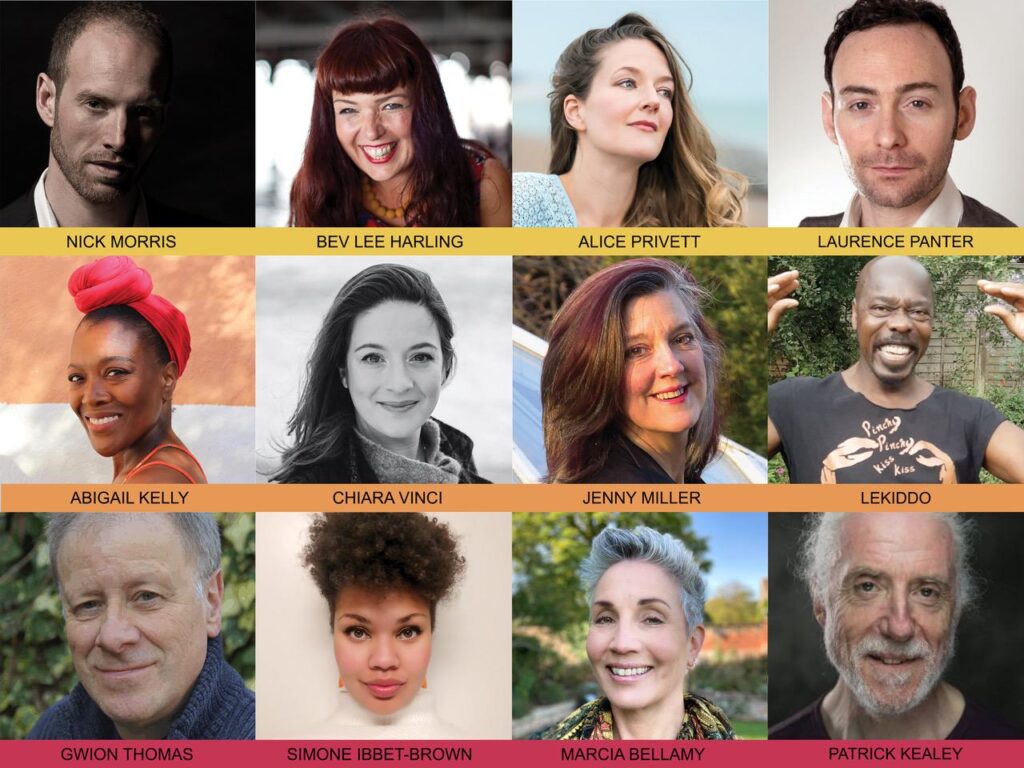 Queen Victoria: CHIARA VINCI
Pauline, the Mayor's wife: ALICE PRIVETT
Arthur, the Mayor of Melhaven: NICK MORRIS
Cassie, owner of Scallops restaurant: MARCIA BELLAMY
Serge, chef at Scallops restaurant: LAURENCE PANTER
Ellie, music director of the Breeze Choir: ABIGAIL KELLY
Mervyn, music director of The Larks choir: LAURENCE PANTER
Wally (a man dressed as Wally from Where's Wally): Gwion Thomas
Dustin, councillor: GWION THOMAS
Jackie, councillor: SIMONE IBBETT-BROWN
Busker: BEV LEE HARLING
Martina, the street sweeper: JENNY MILLER
Apple Johnny, a man who lives on the streets: PATRICK KEALEY
Nightclub singer: Lekiddo

The Barefoot Band
Piano: Lesley Anne Sammons

Percussion: Derek Scurll

Trombone: Patrick Kenny

Guitar: Dan Jefferies

Double Bass: Lucy Mulgan
Violin: Ruby Colley

Violin: Bev Lee Harling

Clarinet: George Sleightholme

Accordion: Aine Mcloughlin

Production Team
Assistant Director: Callie Nestleroth

Lighting designer: Ace McCarron

Production designer: April Dalton

Design consultant: Peter Fillingham

Production Manager: Jon Tyrrell

Stage Manager: Zo Morgan
Scenic painting: Project Artworks (Mark Lockton, Charlotte Stephens, Peter Quinell and Maya Shapiro Steen)

BLOOM BRITANNIA WAS DEVELOPED WITH FUNDING FROM THE ARTS COUNCIL OF ENGLAND, BATLEY HIBBERT TRUST, THE MAGDALEN AND LASHER CHARITY, SUSSEX COMMUNITY FOUNDATION, HASTINGS BOROUGH COUNCIL, THE FOYLE FOUNDATION, GARFIELD WESTON, THE GOOD GOVERNANCE INSTITUTE